Roach Control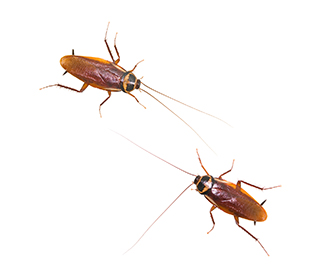 Cockroaches are the ultimate symbols of infestation.
In fact, cockroaches aren't always bad. In some natural environments, they serve as recyclers, productive members of the ecosystem. That's not the case in homes or commercial buildings. In addition to being fairly large (some can be two inches in length or more), they can also lead to more severe allergies and can carry disease—particularly important for restaurants that experience cockroach infestations.
Controlling these pests is extremely important for all types of property owners, and only trained exterminators can effectively eradicate these six-legged critters. Insecticide that you buy at the store might give you some peace of mind, but remember: Seeing one or more cockroach around your home or building during the day likely indicates a severe infestation, as most roaches would stay hidden if not for overcrowding.
Sugarland Exterminating can provide effective cockroach control across Acadiana examining the property for possible infestations and taking the necessary steps to eliminate existing infestations and prevent future cockroach problems.
There are a number of steps property owners need to take in responding to cockroach infestation and our exterminators can help identify the best plan of attack for addressing an infestation. On a basic level, property owners can work to reduce the things in the building that attract cockroaches and support their population, such as improperly stored food or open trash cans. In addition, homeowners in particular can make an effort to examine everything that enters the home, as some species of cockroach are known to enter the premises by being carried.
Sugarland can provide a high level of expertise and quality in addressing cockroaches using a number of directed tools for home and business owners in Acadiana. Cockroach foggers, gels, and residuals can all be effective for dealing with infestations, and our professionals will treat and seal the areas most susceptible to intrusion and infestation.